eConsult - Online Consultation
eConsult enables NHS based GP practices to offer online consultations to their patients. This allows patients to submit their symptoms or requests to their own GP electronically, and offers around the clock NHS self-help information, signposting to services, and a symptom checker.
eConsult is the most widely used digital triage tool in NHS primary care, built by NHS GPs for NHS patients, designed to enhance patient access, improve practice efficiencies and signpost patients to the right place at the right time for their care.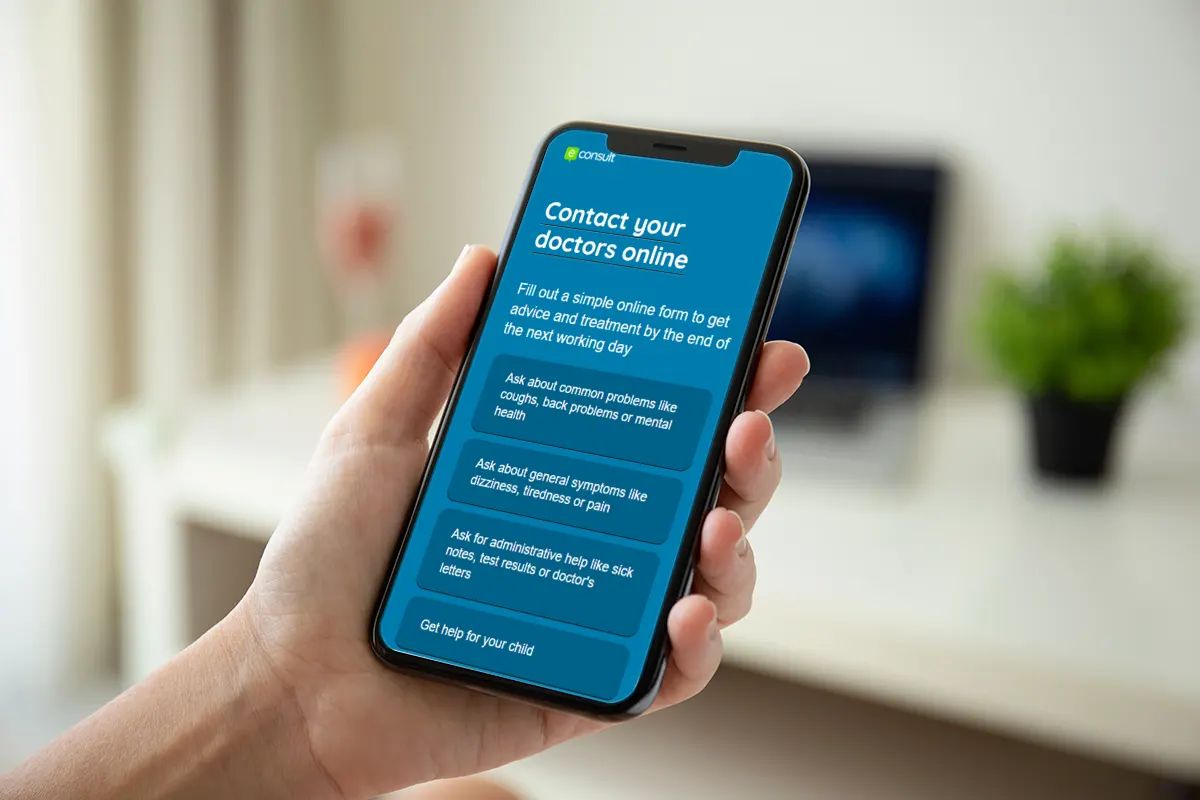 What is eConsult?
eConsult is an online service which helps patients access the help and advice they need at the right time, in the right place, with the right person. The completed form is called a health questionnaire. The form usually takes 7 – 10 minutes to complete. The form safely and effectively gathers information about the presenting medical condition. This means that anyone needing urgent attention is immediately identified and appropriately directed to emergency care or triaged for urgent GP review.
All forms are reviewed by our care navigation team, which includes a GP, working throughout the day so forms are reviewed soon after they are received. This will then lead to an immediate assessment of next steps needed in patient care. We will deliver a response by the end of the next working day but we expect to be much quicker than this .
The forms are confidential, and filed into your patient notes via a secure
pathway.
Example outcomes could include:
Booking for a GP appointment urgent or routine, this will be booked directly for you. This will be face to face or telephone depending on which is most appropriate for your symptoms. We envisage a significant increase of face to face appointments, something we know patients value.
An appointment with one of our other clinicians such as a nurse practitioner, physiotherapist, mental health practitioner or clinical pharmacist whose care would be beneficial for your current situation
If a Fit Note is requested, or a Review needed an email or text will be sent to you with the attached form.
In the case of a minor illness, such as new cough or cold, we could text to advise you and arrange a booked visit to a local pharmacy in the first instance, or provide links for advice.
More holistic management of Long term conditions trying to prevent multiple visits to the practice for different conditions i.e a longer appointment.
Allowing more information to patients of local services that patients can access quickly and conveniently themselves.
eConsult FAQs
We know many of you have questions about how eConsult will work and worries about the effect it will have on your care.
The way that patients are supported in the community by general practice has changed significantly.
We believe now was the time to seek a better way of providing your care.
We understand the worry and frustration when you are unwell and you are unsure whether you will get the advice you need at the time you need it.  Currently when you call our appointments line you will often spend a significant amount of time waiting on the phone only to find out there are only emergency appointments left for that day, often being told to call back the next day or book a routine appointment ready for 2-3 weeks' time.
We want to make sure patients are getting the advice they need at the right time from the right person the first time they contact us about that medical issue.
Change can be unsettling but having done many months of research we believe eConsult is the best option for you as patients and for us as a surgery.
Why have we started using eConsult?
We have a broad and highly skilled healthcare team, many of whom have specialist training and skills. We want you to see the right person, the first time.
We want you to have an effective consultation that meets your healthcare needs for your presenting complaint.
We recognise the difficulties faced by patients trying to access the practice by phone and being able to clearly communicate their healthcare issues to enable a review in a timely manner with the most appropriate team member. eConsult allows us to review patients' needs and manage the system more effectively, less duplication of appointments. In turn this will allow us to have more appointments available to meet patients' needs.
The questionnaire will identify patients at risk who need urgent review and allow them immediate access to help therefore avoiding the risk of these patients not being able to get an appointment or not being able to contact the practice.
For some patients the e consult will allow a more remote approach that is valued by many patients such as a follow on by video consultation, telephone appointment or text.
It is important to note that the eConsult is not a barrier to access to a clinician, but instead a tool to enable more successful and appropriate access to the right clinician at the first point of contact and thus a moresatisfactory patient journey through the practice. Follow ups as required will be booked by the clinician and continuity of care where possible will still be provided.
What if I can't use the eConsult Service?
If a patient is unable to use the form due to no access to IT / unable to use the IT
or, is vulnerable or other reasons then the patient can call /visit the practice and the receptionist will gather information from the patient about their healthcare condition over the phone or in person. This will
then be filled in by the reception team on behalf of the patient and forwarded as per the other forms on to review their needs.
If a patient fills in the form and a concerning symptoms is flagged then these patients may also be signposted to reception who will again gather more information and this will be discussed with the triaging GP to ensure swift decision on appropriate next steps of management.
Can reception make me an appointment instead?
The reception team, whether it be in person or on the phone, will no longer be booking you an appointment when you call
Instead they will do as described above - ask questions
How long will it take to fill in the form?
For medical queries it generally takes 7-10 minutes.
For administrative or simple issues it is shorter.
How long will it take to hear from the practice?
For all medical issues the practice will get back in touch by the end of the next working day at the latest but much quicker in urgent cases.
When the surgery contact you it will be to either offer an appointment, offer advice, or help direct and arrange your  care from appropriate healthcare services in the community that we work with.  This will be by text, email or by phone call. 
Why do I need to answer questions online or answer the questions the reception team ask me?
So that the team who look at all the information submitted can provide you with the appointment or advice you need with the right person in the right time period.
The number of different staff working at Holmwood Corner has rapidly expanded to include Advanced Clinical Practitioners, First Contact Practitioner Physiotherapists, Social Prescribers/Community Connectors, Clinical Pharmacists and Physicians Assistants
Will I get an appointment quicker if I speak to reception instead?
The reception team will no longer be making appointments with patients directly.
The forms filled in by reception are dealt with in the same way as those filled in online so neither option is better or worse.
I don't feel comfortable telling reception about my medical issue
All staff within the Holmwood Corner team, including receptionists, sign a confidentiality agreement
This means anything you discuss with them is not shared inappropriately and treated with absolute privacy and respect.
Will there be a confidential space in the building for the receptionist to ask these questions?
Yes an area behind the main reception desk
This will not be audible by other staff or patients is being allocated.
What if English is not my main spoken language?
If you don't speak English then there are lots of options available.
If you have a family member or friend that you are happy to help assist you then they can help you to fill in the econsult form. If you do not have anyone that can help, or you would prefer not to discuss your issues with friends / family then you can call the practice and the reception team will help you by filling in a shorter form with the assistance of a translator on the phone. If you cannot access the phone then when coming into the practice the reception team will help with the form as above with assistance from a translator.
We are very grateful to our patients for their support during the introduction of this eConsult tool.
Will I have to fill in the same questionnaire any time I need an appointment?
For each new contact you will be asked to fill in an online questionnaire.
We are, however, making changes to the way follow up appointments are arranged.  Currently clinicians will often ask patients to speak to reception to book subsequent appointments for relevant investigations such as blood tests and then, following that, book a follow up appointment with the GP or other clinician.  Instead we will be booking these for you during your first contact avoiding the need for you to contact the surgery again just to make the appointments we have already agreed you will need to properly deal with your medical issue.
Will I need to fill in a form to get my 'annual checks' done?
The practice will be proactive in contacting you and arranging appointments at a convenient time
This is for monitoring that is recommended for any long term conditions you may have.
Does this mean I won't see a GP anymore?
The opposite. eConsult is just a preliminary way of collecting information to ensure you are seen by the right person in the right way
This is not a way of deflecting medical issues that need contact with a GP.  We foresee providing many more face to face appointments in comparison to the percentage currently being offered.
We will continue to update this information as we identify any other commonly asked questions or concerns that any of our staff are hearing.
Thank you for your co-operation during this time of change towards better access.
We use cookies to help provide you with the best possible online experience.
By using this site, you agree that we may store and access cookies on your device. Cookie policy. Cookie settings.
Functional Cookies
Functional Cookies are enabled by default at all times so that we can save your preferences for cookie settings and ensure site works and delivers best experience.
3rd Party Cookies
This website uses Google Analytics to collect anonymous information such as the number of visitors to the site, and the most popular pages.
Keeping this cookie enabled helps us to improve our website.